In attempting to tell the story of Gianni Dezio, chef of the restaurant, Tosto, in Atri (TE), you must be ready to pack up and embark on a crazy journey across the Atlantic Ocean, a delicate balancing act of back-and-forth between Venezuela and Abruzzo.
You were born?
Here.
Preschool?
There.
Elementary?
Here.
High School?
There.
University?
Here.
Ok so after university, you stayed in Italy?
No no. I first opened a restaurant there …
Yet nothing in appearance, gesture or expression shine through, leaving only a hint of frenzy, one that certainly I would expect from a man of such a turbulent past. A boy, I should say, because he has just turned thirty. And at first glance he seems even younger, with a light and relaxed face, bright eyes overflowing with life, like those of a child who has just completed his best sand castle; the broad smile, sincere, omnipresent. The son of an inexhaustible enthusiasm that spreads slowly around him, permeating the atmosphere of the room, just like the smell of bread that is cooking in the oven.
It is almost ready, now we are going to taste it.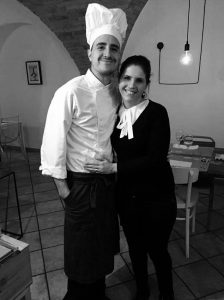 Daniela pops up with a steaming basket of bread. She is the wife of Gianni, they met during his childhood in Venezuela. She is a descendant of the long ocean route that has long united and still connects the Old and New World.
In truth, we were together even in kindergarten, then I left her because at that time I was very popular, I had two girlfriends … But don't tell her this!
The bread has the consistency of a warm pillow in a winter night and has the scent of motherly love. Speaking of motherly love, Gianni's mother appears from behind the kitchen door in official uniform, dawning her chef hat and the same unmistakable, robust smile; identical to that of her son.
Mom had opened her Italian restaurant in Calabozo, where we lived in Venezuela, 120 miles south of Caracas. I grew up in that kitchen …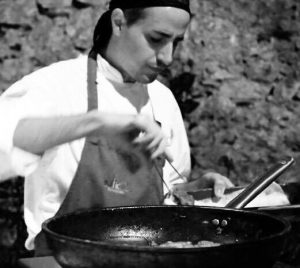 After graduating in Tourism Sciences in Teramo I left again for South America and I took over my first restaurant inside a hotel. Feeling still inexperienced, it seemed easier to propose the idea of Italian food to the Venezuelan public, much less demanding than ours.
Thanks to the gifted chef, the restaurant took off very quickly, so much so that the owners ominous maneuvers to take over the business ultimately forced him to throw in the towel.
In the end it was better this way, the experience spurred me to make the decision to move permanently to Atri and to open something that was ours, mine and Daniela's.
He then enrolled in a school specializing in haute cuisine headed by Niko Romito, a three Michelin starred chef, in Castel di Sangro (AQ). After Six months of intensive work, Gianni resurfaced with a title and with the final idea for his restaurant.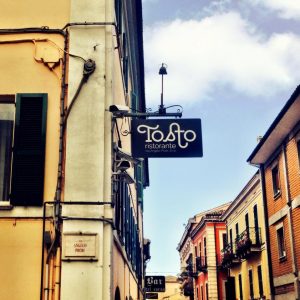 Yes, referencing the act of toasting, or transforming and bringing out new, more substantial flavors. I think it is somehow a metaphor for my life. And also because well, to get here it was … tough!
[ Translation Note : Tosto in Italian has dual meaning.
1. Tough
2. I Toast , simple present of Tostare, meaning to toast ]
Of course, it was not easy to import this idea, a modern twist on a classical style of cooking already popular in international circuits but problematic in a place as traditional and conventional as the hills of Teramo. Gianni fought his way through the ranks of detractors parading in front of him from the start with his sword and his shield, the obsessive search of the best local raw materials and the direct relationship with the producers: wine, oil, vegetables, meat, and cheese…
Imprinted in my childhood memory is the taste of the ravioli with ricotta cooked by my grandmother, and one day I ran into the same unmistakable flavor. So I visited producer Tiziana D'Amario, and we realized that my grandmother used to buy the same exact ricotta when it was Tiziana's mother-in-law making it, many years before.
This anecdote illustrates the way in which Gianni interprets his process regarding the ingredients, the essential basis of his well-structured and never excessive menu; spawning masterful and original combinations within which traditional flavors and new fusions dance in unison on the stage of pure sensory ecstasy.
It's time to eat. Gianni dissolves into the kitchen and we let him take us by the hand and accompany us into his culinary universe through the tasting menu. Five courses at the discretion of the chef. I won't spoil the details… in part because I need to finish writing this article and in part to spare you the torture of salivating and leaving you only with the desire to experience it firsthand.
Terre Dei Calanchi (Soil of the Badlands)
A dessert of my invention, a tribute to my territory, both rugged and generous. I wanted to bring in a dish the visual and aromatic sensations you feel at the top of the ravines, so I put it literally … on the plate!
A disc made from Atri's clay and dried in the sun, and on it you have the dessert, a ruby center of gelato comprised of beetroot and raspberry, covered with a gully mousse of licorice and crossed like a landslide with a licorice crumble, holding up a brittle powder of capers and herbs. Buckle up when you try this gem because the vortex of flavors in their sweet contrast will make you want to jump out of your seat.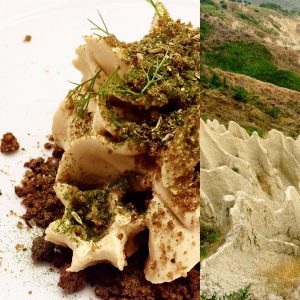 As we roll ourselves away from the restaurant and return to the car I see that Gianni has found the time to write me a message: I hope that everything was to your liking. Thanks a lot. See you soon!
Thank you, Gianni. The night sky of Atri is serene, freckled with stars. A breathe of fresh air and a full belly… very few things could be better than that.